Privacy Policy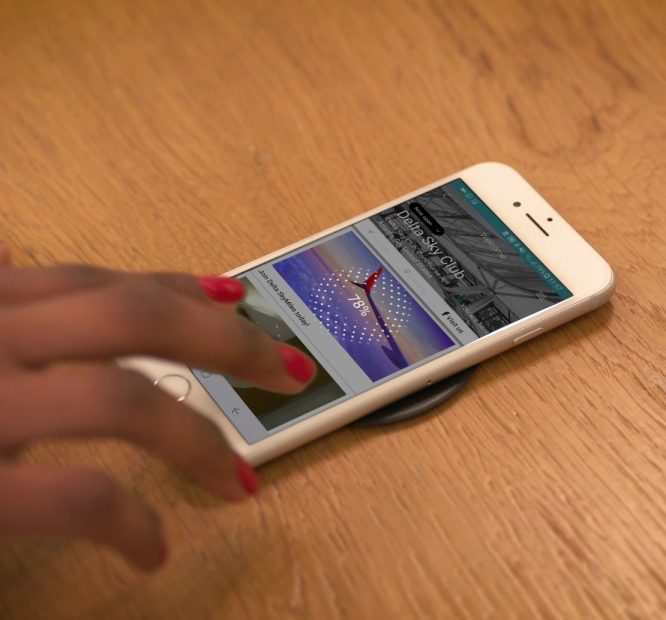 Powermat Technologies LTD.
Privacy Policy
Effective October, 2017
Version 1.5
Our commitment to privacy
The information we collect
How we use information
Tailored advertising and offers
Disclosure of information to third parties
Financial information
Accessing or changing your PII
Your California privacy rights
Information collected on our website(s)
Important disclosures, practices and contact information
Our commitment to privacy
This Powermat Technologies Ltd. Privacy Policy ("Policy") sets forth the information privacy practices of Powermat Technologies Ltd. and its affiliates (including its wholly, majority and minority owned subsidiaries) (collectively, "Powermat" "we" or "us") in connection with your use of the Powermat mobile application (the "Application"), any Powermat Charging Spot ("Powermat Charging Spot", "Charging Spot" or "Powermat Spot"), all associated services, including our website at https://www.Powermat.com (and any other website this Policy is found on) (the "Website(s)") and any other services that are governed by this Privacy Policy (collectively, the "Services").
Powermat respects your privacy and is committed to ensuring that your information is protected. This Privacy Policy discloses the information we gather through the Services, the ways we process, share and secure such information and what your choices are regarding that information. It also separately discloses how we gather, process, share and secure information collected through the Website.
Except where otherwise expressly indicated herein or in the Application, this Policy applies only to information collected through the Services and not to information collected outside of the Services.
Anyone who visits, browses, downloads, or otherwise uses the Services (collectively, "you" or "user") is subject to this Policy. Before submitting any information in connection with your use of the Services, please read this Policy. By using the Services, including the submission of any personal information, you acknowledge that you accept the practices and policies outlined in this Policy and consent to having your data transferred to and/or processed in the United States and other countries where Powermat has facilities. If you do not agree to this Policy, you are not permitted to use the Services.
The information we collect
The Services provide tools that permit users to wirelessly charge supported mobile devices in various public spaces and locations that have Powermat Spots. We collect the following three categories of information from you: (a) Personally Identifiable Information; (b) Non-Personal Information; and (c) Passive Information. All three of these categories are collectively referred to as "Information" in this Policy.
A. Personally Identifiable Information Collected from Individuals
We may receive and store any information you enter through the Services that would allow us to identify you personally or contact you or identify other individuals. This information is referred to as Personally Identifiable Information ("PII"). The PII you provide to us only will be used by Powermat in accordance with this Policy. Examples of PII we may collect from you are:
Your mobile phone number or International Mobile Equipment Identity (IMEI) number;
Your email address;
Your home or office address or other contact information; or
Any PII you provide about yourself or others when you send us an e-mail, contact support or otherwise communicate with us.
Information related or connected to a social media account that you use to sign up or log in to the Services, or when you associate that account with our Services. For instance, when you associate your Facebook account with our Services, we may receive your public profile (name, profile picture, age range, gender, language, country and other public information), your friend list and your email address. If you sign up, log in with or associate other social media accounts with our Services, such as Twitter or Tumblr, we may obtain similar information from those platforms.
Other Information you may provide to us, such as to receive free services, enter a sweepstakes or contest, or make inquiries to us.
B. Non-Personal Information
From time to time, we may ask you to provide us with or permit us to collect non-personal information, which is data that alone is not intended to allow us to identify you personally, such as just your first name, birthday, zip code, demographic information or location information. This non-personal information also may include precise GPS location and BLE / iBeacon micro-location if you choose to permit the Services to collect this information, or less specific location information, such as the city, state and country in which you are located when you download the Application. Sometimes, Powermat will aggregate and/or anonymize PII so that it becomes non-personal information and is not intended to be used to personally identify you.
C. Passive Information Gathered Electronically
We and our third party partners, such as the operators of Charging Spots or third party vendors that provide analytic services to us (collectively, our "Partners") may automatically collect certain types of passive information when you use the Services, including the receivers that must be attached to your device to permit wireless charging (the "Receivers"). For instance, we may through your device and/or the Application (including through your use of the Charging Spots) automatically collect your mobile device identifier such as an IDFA (for iOS), or MAC address or other unique identifier, or your device hardware model, operating system version, or mobile network information. We (or our Partners) may also collect service usage information, frequency of users of the Service, pages, forms or screens visited, status of a charging session, and similar data that is associated with your mobile device, your Receiver, or your use of a Charging Spot. This data is used for purposes of providing services to you, analyzing and improving our service and providing diagnostics and support functions, and may also be used in the aggregate as a statistical measure. This information can be used to identify a device that is using the Services and information concerning a session in which you are charging your device, such as the device that is being charged, the start and stop times for charging, the location where such charging is taking place, and the history of purchases made through the Services.
D. Device Location Information
You can use your wireless device to obtain the Application for free through third party marketplaces, like the Apple iTunes store. The Application, as well as the operating system for your mobile device (Apple's iOS) may provide additional functionality by using a variety of device location tools. These include: (i) the precise location of your wireless device using the device GPS functionality or BLE/iBeacon micro location services; (ii) the precise location of a Charging Spot that you are using to charge your device; (iii) broader location information, such as the city, state and/or country where you were located when you download the Application); (iv) your device identifier, IP address, or operating system; and (v) usage information. For instance, if you desire, the Services may use your location information to help you find locations of Charging Spots so that you may charge your device. You will be (or have been) notified of this location functionality upon installation; if at any time you no longer wish to have this functionality enabled, your sole choice (unless we provide another option, at our discretion) is to uninstall or disable the Application on your device, in which case no credits or refunds shall be given for amounts you have already paid. You also may be able to control location settings through your device settings on your mobile device operating system (e.g. iOS). However, even if you have turned off location tracking through your device settings or you have not selected to use the Charging Spot locator, Powermat and its Partners operating the premises where Charging Spots are located may know the location of your device when you use a Charging Spot. Furthermore, any wireless device location used in connection with a service or product that is provided by a third party (i.e., not Powermat or one of its Partners) will be governed by that third party's terms and privacy policy. You understand and agree that Powermat is not responsible for any such third party's use or sharing of your wireless device location information.
Please note that our Partners, who operate Charging Spots or the premises on which the Charging Spots are located, are unaffiliated with Powermat, and may have their own privacy policies and terms of use, which you may be required to agree to before using a Charging Spot or which may govern their use of information that is collected from when using the Services.
How we use information
We may use your Information for a number of purposes, including:
To allow you to use the Services and to administer your account;
To communicate with you including, without limitation, responding to your questions or comments, or to contact you for feedback regarding us, advertisers or Partners;
For Powermat's and our Partner's marketing and promotional activities, or to provide information about our products and services;
To provide you with tailored advertising and/or offers, which is explained in greater detail in Section Tailored advertising and offers below;
To report to our advertisers regarding use of the Services or to facilitate the fulfillment of an order that you have made with an advertiser or Partner;
To provide you with functionality changes to the Services or new Powermat services;
To customize, personalize, analyze, evaluate, adjust and improve the Services to meet the needs and expectations of you, Powermat, our affiliates, advertisers or Partners;
To anonymize or aggregate PII for various purposes like market analysis or traffic flow analysis and reporting and other internal purposes;
To enforce our agreements with you, prevent fraud and other prohibited or illegal activities, and generally to ensure that we comply with applicable laws; and
To allow our Partners or the operator of a premises where a Charging Spot is located to contact you or provide you with a promotion or offer.
Tailored advertising and offers
The Application may include third party tailored advertising technology which enables customized advertising in the Application while you are using the Services. When you use the Services, we or third parties operating the ad-serving technology may use passive information and/or information collected electronically through your mobile device and the Application, which may include mobile device identifier and other mobile device information such as (or functionally similar to) that listed below. This information may be used by Powermat or by third party advertising platforms and services to provide customized advertising, to perform analytics concerning those ads and other applications or mobile activity tracked by those third parties. These technologies also may control the number of times you see a given ad, deliver ads that relate to your interests and measure the effectiveness of ad campaigns. Logged and/or collected data may, but does not necessarily include IP address, unique device I.D. or MAC address, advertising identifiers, types and languages, session information including date/time stamp, device make and model, Internet service provider, referring and exit pages, operating system and version, clickstream data, carrier provider, carrier user ID, precise geo-location information (such as GPS-level data), clicks on advertisements, advertisement(s) served, length of time an advertisement was visible, size of the advertisement, advertisement response (if any), device applications, the city, and general online and service-specific usage data and usage metrics.
Any of this information that is collected and used by Powermat will be subject to this Policy and may be disclosed to third parties in a manner that is not intended to identify you personally, but may be used to identify the device that you are using or the location where it is being used. To the extent any of this information or information concerning the location of your device is collected by third parties and not by Powermat, you acknowledge and agree that such collection and use is governed by those third parties' privacy policies and Powermat is not responsible for any electronic technologies in third party advertisements.
Opting Out of Interest-based ads When Using the Application
As of the time of this posting, you can choose to turn on the Limit Ad Tracking setting on your iOS device by going to Settings > Privacy > Advertising and turning on Limit Ad Tracking. You can also turn off Apple's location-based ads on your iOS device by going to Settings > Privacy > Location Services > System Services and turning off location-based ads. Please note that to the extent advertising technology is integrated into the Application, you may receive in application advertisements even if you opt-out of tailored advertising. In that case, the advertising will simply not be tailored to your interests. Please note, however, that we do not control how the applicable platform operator allows you to control receiving tailored in-Application advertisements, or to opt-out, so the precise settings applicable to opting out may change, or be different on your particular device.
Disclosure of information to third parties
The privacy and confidentiality of your Information is important to Powermat. We only share your Information with third parties if we have your permission or under the following circumstances.
Powermat Partners and Affiliates. In order to provide you access to Charging Spots and to offers and services that we and/or our Partner think you will find valuable, we may share any information collected through the Services with our Partners who operate the premises where Charging Spots are located. For instance, if you are near a Charging Spot or using a Charging Spot, one of our Partners may send you an offer or promotion for their products or services. Our Partners are contractually required or bound by law to protect your PII and only are permitted to use it in accordance with our agreements with them. We may also share Information with our affiliates and subsidiaries, where those affiliates or subsidiaries help us to provide you with services or products you have requested. An "affiliate" is an entity with which we share common ownership (in whole or in part), and a "subsidiary" is an entity in which we own all or part of the shares in that entity.
Service Providers. We may share Information with third parties who perform services on our behalf. These may include, for instance (without limitation), hosting providers, consumer and technical support providers, marketers and email providers, and other service providers who help us provide you with Services. We contractually require these third party service providers to protect your PII.
Business Transfers. Information may be transferred or disclosed as part of any merger, acquisition, sale of some or all of Powermat's assets or transition of service to another provider. In the unlikely event of an insolvency, bankruptcy or receivership, Information also may be transferred as a business asset.
Protection of Powermat and Others. We may access, monitor, use or disclose your Information or communications to do things like: (i) comply with the law or respond to lawful requests or legal process; (ii) protect the rights or property of ourselves, our agents, our customers, and others, including to enforce our agreements, policies and terms of use; and (iii) respond to emergencies.
Non-Personal Information; Aggregated Personal Information and Passive Information. We may share with third parties non-personal information, aggregated personal information that is not intended to allow these third parties to identify you or passive information, except for passive precise location information which is addressed below.
Your Location. If you choose to activate the Charging Spot locator in the Application, which uses the GPS function on your mobile device, we may share such GPS location data, (which we've also referred to above as "precise location" data), with our Partners who operate or maintain the premises where Charging Spots are located. Information about your location when you are using a Charging Spot may be shared with our Partners even if you turned off the Charging Spot locator tool in the Application. In addition, non-precise information about your location based on information such as an IP address may be shared with any third parties.
Financial information
Powermat does not collect, store or otherwise maintain credit card, bank account or similar other financial information.
Accessing or changing your PII
If you need assistance changing or deleting your PII, you may contact us. We may be required to maintain certain PII for a period of time, for legal, accounting or anti-fraud purposes.
Your California privacy rights
California Civil Code Section 1798.83 permits users who are California residents to request and obtain from us once a year, free of charge, a list of the third parties to whom we disclosed their personal information (if any) for direct marketing purposes in the preceding calendar year and the categories of personal information disclosed to those third parties. If you wish to make such a request or have any questions about Powermat's information sharing practices, you may contact us by sending us an email to networksupport@powermat.com.
Information collected on our website(s)
When you visit our websites, we may collect certain information from you. This information falls into two categories: (A) personal information you voluntarily supply when you log into our Websites and (B) tracking information collected as you navigate our websites. We may disclose the information you provide to us through the website for any of the reasons listed above in Section III.
1. Personal Information You Provide to Us
We may retain and use for our business purposes personal information (and any other information) you provide to us. For instance, if you provide us with your email address, or enter a sweepstakes we offer, we may send you offers or newsletters, through a variety of online and offline channels. (We will provide you with an opportunity to opt out of these communications.) This includes information that you post to our site (such as if we offer you the opportunity to post to forums).
2. Tracking Information and Use of Cookies on Our Websites
We may use technologies to track your use of our Website and to tailor your web experience. We may, for instance, use technologies to send you advertising when you view our Websites or other Websites. This often will include the use of Cookies.
Cookies are small, unique strings of code stored on your computer that make it easier for you to use our site and help us improve site functionality and security. We may use both session cookies (which expire once you close your browser) and persistent cookies (which stay on your computer until you delete them).
We may use our own proprietary cookies as well as cookies hosted by third party vendors. In general, these cookies use non-personal information to help advertisers customize users' web experiences, based on the users' likely interests. They may be used to tailor ad content on our site as well as on sites you visit in the future. They may collect data such as your browser type, your operating system, Web pages visited, time of visits, content viewed, and other clickstream data. We may also use cookies to automatically collect information about your computer when you visit our Websites, and automatically store it in log files. This may include the type of browser software you use, the operating system you are running, the Website that referred you, and your Internet Protocol ("IP") address.
Important disclosures, practices and contact information
Third Party Links
The Services may contain links to third-party websites or applications. Please be aware that Powermat cannot control and is not responsible for the information collection practices of such websites or applications, which may differ from those of Powermat. We encourage you to review and understand the privacy policies and terms and conditions of these web sites and applications before providing any information to them.
Data Security
We use a variety of industry-accepted tools and safeguards designed to protect your Information and our systems from unauthorized access and disclosure. On the other hand, Powermat has no control over the security of other websites or applications that you might visit or use even when a link to those websites or applications is available in or through the Services.
It is important to us that you feel confident using the Services. However, no system can be completely secure. Therefore, although we take commercially reasonable steps to secure your Information, we do not promise and you should not expect that your Information, activity on the Services or other communications is guaranteed to always remain secure.
Children
The Services are not intended for persons under the age of 13: if you are under 13, you do not have permission to use the Services. Powermat does not knowingly market to or solicit information, accept service or collect information from any person under the age of 13. If Powermat becomes aware that any person submitting information to the Services is under the age of 13, we will attempt to delete the account and any related information as soon as possible. Any ratings for the Application provided by a third party shall have no bearing on this limitation.
Changes to this Privacy Policy
We may occasionally update this Policy to reflect changes in our practices. When we post changes to this Policy, we will notify you through a conspicuous post on our website and/or through the Application, an email, or another means reasonably calculated to provide you with notice, provided that material changes will become effective thirty (30) days (or such longer term we may designate) after such notification. By continuing to access or use the Services, the Powermat Application or Charging Spots after the effective date of any such change, you agree to be bound by the revised terms of this Policy. If you do not wish to agree and abide by any such revised Policy, Powermat shall have no further obligation or liability to you under this Agreement or otherwise, and you shall not be entitled to any compensation or other payment, remedy, or recourse. A "material change" is a change to this Agreement which reduces your contractual rights or increases your responsibilities under this Agreement in a significant manner.
Contacting Us
If you have any questions about Powermat generally, this Policy or the Services, please feel free to contact us by sending an email to networksupport@powermat.com.
Users From Outside the United States
The Services are provided, supported and hosted in the United States, Israel and other countries; however, use of the Services is governed by United States law. If you are using the Services from outside the United States, be aware that your Information may be transferred to, stored and processed in the United States and other countries where our facilities are located. The data protection and other laws of the United States might not be as comprehensive as those in your country. By using the Services, you consent to your information being transferred to our facilities and to the facilities of those third parties with whom we share it as described in this Policy.
No Rights of Third Parties This Privacy Policy does not create rights enforceable by third parties.